Finding Top-Rated Michigan DUI Lawyers Near Me
Our drunk driving defense team is often asked this question: how do I find a top-rated DUI lawyer in Michigan? For OWI Michigan charges, our lawyers for DUI in Michigan always answer this question the same way – there is only one way to find a top-rated Michigan DUI lawyer, and that is by finding one who has honestly and objectively developed the reputation for getting great results.
And there's only one way for those facing DUI charges to do that, and that one way is the hard way. The best Michigan DUI attorneys have earned it by knowing Michigan DUI laws from every angle. That includes being willing and able to go to trial to win, and also knowing when a plea bargain is going to provide the likely best outcome.
OWI vs DUI Michigan. Do not get confused about acronyms for the criminal charge of impaired driving. Nationally, DUI is the most widely used, but in Michigan, OWI is written into our intoxicated driving statutes.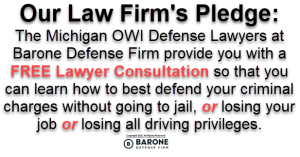 Earning the Awards for Excellence in the Field of Criminal Defense Law
It's easy for a lawyer to post on a website "best DUI lawyer in Michigan." It's quite another to spend decades doing the hard work to earn this distinction – and then to be recognized by one's peers for having earned it, by avoiding drunk driving convictions and the criminal records those create for clients.
So how does a DUI lawyer near me become recognized as one of the best? Considering the subject matter, earning the reputation requires dedication, focus and a commitment to excellence. Dedication is required due to the complexity of the subject matter, even on a first offense DUI Michigan.
By writing more than one book on DUI laws in Michigan, Patrick Barone has distinguished himself as one of the Great Lakes State's most skilled criminal defense attorneys at avoiding a DUI conviction. His team of legal warriors know that clients pay their legal fees for a fighter, not someone who has most of her or his clients plead guilty to driving while intoxicated.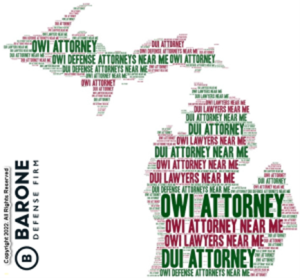 The top Michigan DUI lawyers must dedicate themselves to learning the science of infrared breath testing and gas chromatography blood testing. Most lawyers attend law school after first obtaining an undergraduate degree in a related field of study, such as political science, English or philosophy. Few lawyers have science degrees, and the old joke among lawyers is "I went to law school because I wasn't good at math."
A science education is helpful because DUI cases with drugs or alcohol almost always involve a chemical test of the driver's breath, blood, or urine. The science behind this testing must be understood because without it an OWI lawyer near me cannot adequately represent his or her client in court. If you can't beat the test, you can't win the case.
In a breath test case where alcohol is involved the scientific method that is utilized by the police is called infrared spectroscopy. Where blood alcohol is tested, the test is done on a gas chromatograph, and if drugs like marijuana are involved, mass spectroscopy. To fully understand how these tests are conducted lawyers must attend many hours of specialized training. Lawyers handling these cases and earning the reputation as "best" must have the dedication and commitment necessary to obtain this training.
Learning How to Fight an OWI First Offense Michigan
Patrick Barone has been a regular attendee at dozens of advanced training seminars over the past two decades. Primary among these legal educational programs is the National College for DUI Defense seminar. These courses and their speakers provide cutting-edge training on how to avoid an OWI conviction.
Additionally, the best DUI lawyers also get training in related police procedure, such as in the administration and assessment of the standardized field sobriety tests as well as training in drug recognition, the same type of training that police officers at themselves get to become proficient at investigating DUI cases.
Unless the lawyer spends the time and the effort necessary to obtain this training it is not possible for them to effectively cross-examine the police officers in court. Then there's learning the basic skill of cross-examining. Effective cross-examination is more art than skill, and developing this artistry requires even more training, from the leading trainers such as Terry McCarthy and Posner and Dodd.
In addition to training on science, and cross examination, many years of training and experience are necessary to understand how to present these cases effectively and persuasively to juries in the courtroom. This often also requires a great deal of additional training and might include attendance at the National Criminal Defense College in Macon GA and or Gerry Spence Trial Lawyers College in Wyoming.
These highest-level training programs provide many days of training on cross examination techniques and related trial skills. In the case of the Gerry Spence Trial Lawyer's College, it is an almost 4-week commitment
Gerry Spence is regarded as one of the top criminal defense lawyers of all time, and the power of his method is based on the power of psychodrama. Only the most dedicated lawyers obtain psychodrama training in addition to the trial lawyer's training.
And this is understandable, because it's so easy to "look the part" and to obtain seemly impressive credentials. Many lawyers wishing to obtain DUI clients might brag on their websites that they are listed on many "pay for play" top lawyers lists when all they did was pay a fee.
There are only a small handful of legitimate lawyer rating organizations, with U.S. News and World Report, Super Lawyers and Leading Lawyers being a few examples. You will find Barone Defense Firm being shown in all these high-level attorney ratings services.
One of the best ways to determine if a lawyer candidate is truly among Michigan's best DUI lawyers is to look at their academic credentials. Do they speak at seminars to train other lawyers in this subject matter? Have they written any books published by a leading legal treatise company such as James Publishing, West Law or Lexis/Nexis.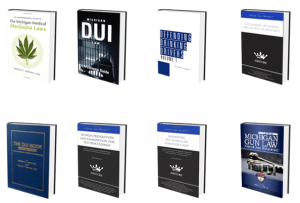 Have they published articles in a leading periodical such as the Michigan Bar Journal, the Champion Magazine published by the National Organization for Criminal Defense Attorneys, or the Criminal Defense Newsletter, published by the Michigan State Appellate Defenders Organization?
Have they ever been asked to teach a course at a law school? These things denote not only a strong level of subject matter expertise, but also a dedication to the profession itself. One does not obtain these distinctions without developing the appropriate reputation for expertise among one's peers, meaning other lawyers.
The criminal defense lawyers at the Barone Defense Firm have accomplished collectively or independently all of these credentials and this is why they are proud to have earned the reputation as the best. If you're looking for one of the best DUI lawyers in Michigan, then contact a legal team member and ask to speak with one of our criminal defense lawyers near me about your case.

We are confident that it won't take long for you to recognize and understand why our reputation extends not just throughout Michigan, but throughout the United States. Call today on our nationwide toll-free number, 1-877-255-6424 (877-ALL-MICH)  anytime and schedule a free initial consultation with one of our attorneys.