MI DUI Penalties: 1st Offense OWVI, 2nd DUI & 3rd OWI Felony
The chart shown below provides a quick view of the various Michigan DUI penalties. A third OWI offense in your lifetime will cause a felony Michigan 3rd OWI offense, if convicted.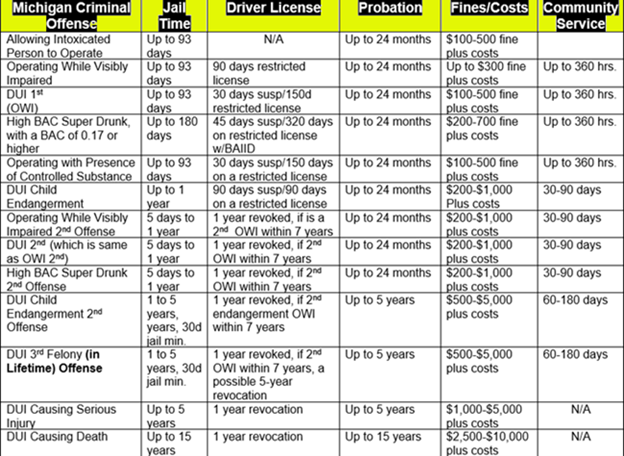 Protect Your Right to Drive! Failing to take appropriate action within fourteen (14) days after your arrest for DUI in Michigan can cause you to lose all ability to drive in the State of Michigan.
Why not let us help you demand an administrative license suspension hearing? Obtain more legal information about saving your driver's license NOW before it's too late, since this filing deadline cannot be extended.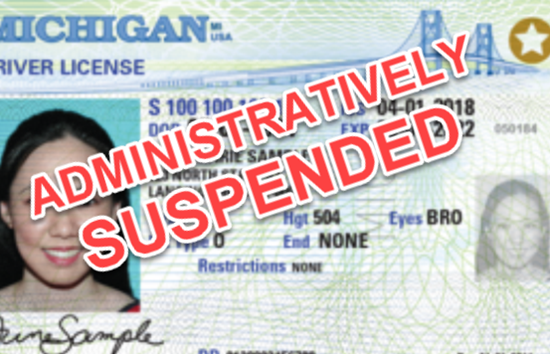 Allow our experienced Michigan OWI lawyers and OWI law book authors to build a solid defense. By being represented, you can ensure that you will know what to expect at every step of the legal process. Call today and get a FREE lawyer consultation with our trained, experienced DUI lawyers in Michigan. En Español.
Contact us 24 hours a day at our criminal defense law firm's easy to remember toll-free number, 1-877-ALL-MICH or 877-255-6424, for a free criminal law case review. The Michigan OWI lawyers near me at Barone Defense Firm will travel the entire State of Michigan, to help citizens in D.U.I. legal trouble for alleged intoxicated driving in Michigan.

Any person submitting a contact form text message or voicemail for an OWI lawyer near me with our office, or who fills out a contact form sends information that will be kept confidential by our legal firm. The free, initial consult does not create an attorney-client relationship, until a written fee agreement is signed by our firm lawyer and the client.