When Selecting a Top Michigan DUI Lawyer Don't Trust Bogus Credentials
The Best Drunk Driving Lawyers in Michigan Have One Thing in Common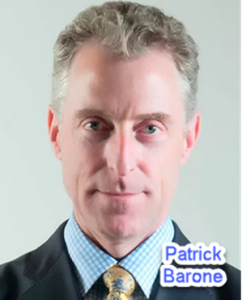 Patrick Barone is well-known in Michigan as a tough criminal defense lawyer. Attorney Barone is an expert OWI lawyer who has helped hundreds of people facing the same nightmare.
Expertise is the one thing the best drunk driving lawyers in Michigan have in common. Trouble is, non-lawyers can't easily separate the best from the fakers. And fakers are takers. They take a large legal fee based on their "expertise," then they under-perform, leaving you to pay the bill.
This article will help you become an informed consumer of legal services. You will learn how to not get taken by a faker who claims to be a five-star award winning lawyer, but is really a money-grubbing charlatan imposter.
Having talking to many thousands of people facing DUI charged, we know that finding a top lawyer is a daunting task. It's not easy to determine who is and who is not a top Michigan DUI Lawyer.
However, if you're facing a DUI case, then it's essential that you find and hire a lawyer with true expertise. This expertise is required because drunk driving cases are some of the most complicated and difficult criminal law cases to defend.
Separating the Best from the Rest
To find a lawyer who is objectively a top Michigan OWI lawyer, you must learn how to distinguish earned credentials vs. bought credentials. (OWI/DUI and drunk driving are all the same thing).
Bought credentials are just what they sound like. A lawyer pays a sum of money, usually yearly, and in exchange, they can claim to have earned the award. Earned credentials are those that can only be obtained through hard work.
This hard work translates into peer recognition, which translates into various academic opportunities. These include law book publishers awarding book and/or chapter contracts. These also include bar associations offering presentation opportunities.
Examples of Bogus Credentials
One example of this credentialing scam is The American Institute of DUI/DWI Attorneys. If you're motivated to learn more about this scam, read "How to Buy A Top 10 Attorney Award."
There are other credentials that are not exactly bogus, but that can be manipulated. Take AVVO for example. Every lawyer wants a "10" rating. AVVO is not really very good at figuring out how to award a 10, and there's ways to game their algorithm. One way is to add fake awards, fake publications, etc.
Be wary of an AVVO 10 rating. After all, Geoffrey Fieger is only rated 8.9, and Gerry Spence, perhaps the most highly esteemed living criminal defense lawyer in the United States only has a 9.2 rating!
What Ratings and Awards are Legitimate?
If you're charged with operating while intoxicated or any kind of drunk driving charge, you want a lawyer you can trust. Not a faker and a taker. So, how can you actually wade through the morass of deceit to find a top lawyer with real credentials?
The best advice is to look at legitimate credentials; the tried and true credentials that have pretty much always signified distinction.
According to the American Bar Association, Martindale Hubble and their associated "AV" rating has long been the "gold standard" of legitimate peer ranking publications. Patrick Barone received his AV rating in 2007. Others include Super Lawyers (2007-2022) and perhaps the most highly esteemed of all, the U.S. News and World Report's Best Lawyers in America. (Both Patrick Barone and Barone Defense Firm have received this distinction).
Look For Publications
It's pretty hard to become a book author without having earned the reputation as the best in your field. Look for publishers like West, Lexis and James Publishing. Some lawyers try to play the part by self publishing books, which is clearly not the same thing. To see a full listing of Patrick Barone's book and book chapter publications, visit his Amazon Author's Page.
Also, look for publications in leading law journals like the Michigan Bar Journal and the Champion Magazine. Here is a brief listing of articles written by Patrick Barone that you can download from this website:
Mr. Barone has more than 100 authoritative publications, more than any other Michigan criminal defense lawyer.
Teaching Other Lawyers is also Important
If you want a top Michigan OWI lawyer, find someone who teaches other lawyers. See if the DUI lawyer near you has held any teaching or faculty positions at a Law School or reputable Trial College. Patrick Barone is on faculty at the Criminal Defense Attorneys of Michigan Trial College. Mr. Barone is also a frequent speaker and trial skills instructor for the Ohio Bar Associations OVI Seminar. He has also been an adjunct faculty member at the WSU Cooley Law School, where he taught a 2 credit class to law students called "Drunk Driving Law and Practice."
Mr. Barone has also taught numerous seminars for the Michigan Criminal Law Association, the Indiana Bar Association, the Ohio Bar Association, the Michigan Bar Association, the Illinois Bar Association and at the National College for DUI Defense summer session at Harvard Law School, as well as at the Gerry Spence Trial Lawyer's College.
Specialized Training in Science of Breath and Blood Testing and Standardized Field Sobriety Training

As we've explained in other articles on this website, a Michigan drunk driving, also called operating while intoxicated, can be proved two ways. One is based on the OUIL theory, the other is based on the UBAL theory. The "number" is important to either theory, and breath or blood tests are sometimes wrong. Even Michigan DUI blood tests are sometimes wrong.
It's not easy to beat the number. So look for lawyers who are certified as competent by the manufacturer in the science of evidential breath testing. Patrick Barone is believed to be one of only three lawyers in Michigan who ever received this training.
Blood testing is based on infrared spectroscopy. Patrick Barone has a baccalaureate degree in biology, where he studied this science both in the classroom as well as in the laboratory. Since then he has both attended and taught on the science of blood testing at seminars around the country.
One of the most important areas of training is regarding the National Highway Safety Administration's Standardized Field Sobriety Tests. These are the tests given at the roadside during an OWI investigation.
The three tests are the horizontal gaze nystagmus, walk and turn and one leg stand. Patrick Barone received his participant training in 2003, and in 2004 he completed the NHTSA/IACP Standardized Field Sobriety Testing Instructor Course. Patrick Barone is believed to be the only lawyer in Michigan with SFST instructor training. Also, Barone taught a 2 hour SFST trial skills workshop the CDAM Summer Trial College in 2022.
Specialized Training in Trial Skills
The best criminal defense lawyers are motivated to learn how to effectively try cases. Any lawyer can stand next to their client when the plead guilty. Only the best criminal defense lawyers can successfully try and win a drunk driving case. Yet, trying and wining cases is how lawyers get good plea bargains.
Lawyers don't learn how to try cases in law school. A new lawyer can learn by doing, by trying lots of cases. Another way is go to one of several trial colleges. Perhaps the best is the Gerry Spence Trial Lawyer's College. Patrick Barone became a TLC graduate in 2012.
The most essential skill for any criminal defense lawyer is cross-examination. Terry MacCarthy is known as the best person in the Nation teaching the essential drunk driving defense trial skill of cross-examination. Patrick Barone had the privilege to see him teach cross-examination skills in Chicago in 2015. If you want to get an idea of what this training was like, see this YouTube video.
The very top criminal defense lawyers, around the country, obtain training in psychodrama. And the very top echelon obtain psychodrama certification. Psychodrama training provides a variety of techniques and tools that can be used to discover the true facts of a case, and then present them in court. Psychodrama is not a trial skill as such, but psychodrama is an amazingly power method that can be used during all phases of a criminal case, including trial and sentencing. Patrick Barone is the only Michigan Lawyer Certified by the National Board of Psychodrama Examiners in Sociometry, Psychodrama and Group Psychotherapy as either a practitioner or instructor of Psychodrama.
Experience Also Matters
You can also look at years in practice. At the Barone Defense Firm we have more than 100 years of combined legal practice. Patrick Barone alone has been practicing Michigan criminal law for more than 30 years. The majority of this time he's exclusively handled intoxicated driving cases.
Referrals are the Best Way to Find a Top Michigan DUI Lawyer
Of course there is no substitute for a referral from someone you trust. Though it may be embarrassing, reaching out for help, and for a recommendation, might just be the best thing you can do to help yourself find a top Michigan DUI lawyer.
The Michigan drunk driving lawyers at the Barone Defense Firm offer free case evaluations. If you've been charged with DUI in Michigan, call today, and find out what really makes us different. A top client experience.