Criminal Lawyer: Michigan Laws, Criminal Attorneys Near Me
Hiring the Right Criminal Lawyer and the Right to Have an Attorney Represent You. When a client retains a criminal lawyer, that criminal defense law advocate acts as the accused person's investigator, guide, protector, and confidant when negotiating the frightening journey through a criminal law case. The American criminal justice system is one of the fairest in the world but still has many imperfections.
Criminal defence lawyers in Canada and England have the most similar criminal justice systems. This similarity is understandable since the USA and Canada both patterned most of their criminal laws after Great Britain.
Only a small percentage of criminal defense lawyers are part of a private practice criminal law firm. The heaviest load for handling criminal law cases is found in the public defender system. So, more than 3 of every 4 accused citizens facing criminal prosecution (felony or misdemeanor) will have a court-appointed legal advocate to defend her or him.
While about two (2) percent of accused citizens represent themselves, with no trained, criminal attorney helping them, over 75% of all criminal defendants will have government-appointed legal counsel. These attorneys are either public defenders or local attorneys chosen from a panel and paid by that State, county, or city government.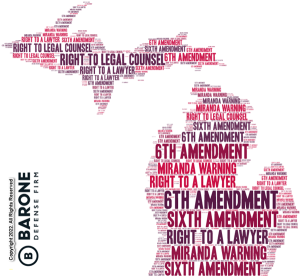 In serious misdemeanor and felony cases, the right to an attorney in criminal prosecutions is guaranteed. This is part of the Bill of Rights and embodied in the Sixth Amendment of the United States Constitution, as well as by our 5th Amendment "due process" of law guarantees.
The State of Michigan (or one of its political subdivisions) will provide a Michigan criminal defense lawyer to defend clients who are indigent. Many people wonder if any these legal professionals are the best defense attorneys, and the reality is that PD work is an entry level legal position for many. But other, more experienced public defenders will typically oversee and supervise the work of the newly minted criminal law advocates.
Many nations have no such guaranteed protections for a fair trial. The idea of the government paying for legal representation in many nations is cursory, at best. Perhaps in death penalty cases, a lawyer would be appointed. So, in such nations, unless a family member can help pay a legal professional in many third world countries, that accused person will represent himself or herself.
What Does a Private Criminal Defense Attorney Do That Is Worth the Fee Paid?
They review the State's criminal investigation from start to finish. During this scouring of video evidence, police radio communication and written reports, one of more legal issues will usually be revealed.
A Michigan criminal defense lawyer will research facts, investigate their client's case, and try to negotiate deals with adversaries. These deals might include reduced bail, charges, and sentences. Because of overcrowded jails and overloaded court calendars, deal-making has grown in importance and has become essential in unclogging the criminal justice system.

Criminal defense attorneys help their clients by examining witnesses, formulating a plea, analyzing the prosecutor's case, and assessing the potential sentences. They can also review search and seizure procedures, question witnesses, and gather evidence. Additionally, they can advise on potential consequences of a plea, conviction, or criminal record, such as immigration consequences.
Defense lawyers help their clients by being realistic about possible outcomes, and by helping them deal with the frustrations and fears that come from being involved in the criminal justice system. If no plea deal can be made, the defense lawyer represents the defendant at trial.


In addition, a former prosecuting attorney is now part of the Barone Defense Firm. This has allowed the law office to bring together a highly varied and effective team of experts in drug possession cases, sex crimes and white collar crime defense.
When a person is accused of crimes aligned with serious felony criminal law fields, like sexual assault, child molestation, embezzlement, financial crimes (like operating a Ponzi scheme or being accused of Medicare fraud), top criminal defense attorneys are needed.
An accused citizen facing such crimes can't rely on unknown public defenders to be able to dedicate themselves to finding a criminal case solution. You don't just default to a Detroit criminal defense attorney since most of Michigan's most skilled criminal law professionals maintain their legal offices in the suburbs, where they reside.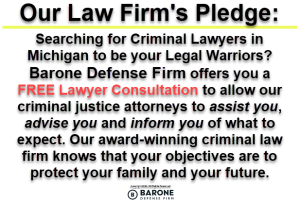 In the field of criminal charges based on motor vehicle crimes, the BDF is nationally known. This is partially due to Mr. Barone's authorship of multiple books on drunk driving law. But our law office's leader also teaches at law schools and has also authored books on marijuana law and gun rights.
Our private law firm's criminal defense attorneys in Michigan will travel the entire state. Just like the Super Lawyers attorney ratings directory has named Mr. Barone and other members of Barone Defense Firm as a "best lawyer in Michigan" for criminal defense, more of our best criminal attorneys have developed expertise in various fields of criminal law practice.
When charged with a crime in Michigan, many people immediately search for the best criminal defense attorney. The goal is to hire a criminal law attorney who is an expert with extensive experience as a felony lawyer, who is skilled in filing dismissal motions based on illegal searches and seizures by police.
At the beginning of a criminal case, neither the client nor their lawyer usually knows much about the evidence collected by police. This information is disclosed later, when the best criminal defense lawyer from Barone Defense Firm obtains the criminal discovery packet from the prosecution team.
In addition to potential jail time or a lengthy prison term, convicted offenders may also face monetary costs, probation conditions like community service hours, and possible restitution and criminal conviction requirements that may prevent them from voting or possessing a gun.
In an increasingly diverse America, some clients may also face possible deportation because of their conviction. Finally, felony convictions can lead to familial disruptions and prison time sanctions.
The Role of Michigan Lawyers, Criminal Justice
The backlash from losing your criminal case can mean possibly losing your career or even your relationships with others. Beyond new financial challenges (e.g., not being able to use a company vehicle), the impact of a criminal record can create a financial disaster and destroy many marriages. That is why having a top-notch Michigan criminal defense attorney at your side is imperative.
Our central office is in a "bedroom community" outside Detroit, but BDF also has other law office locations. Our many criminal lawyers near me serve all these locations:
Our statewide criminal defense legal firm also can provide top quality criminal justice attorneys near me in every corner of Michigan, including the Upper Peninsula. Make the call for your FREE lawyer consultation and get started on relieving your mind of the stress of the burden.


An experienced criminal attorney in Michigan from our offices will work diligently to obtain a reduction or even a dismissal of pending charges, or where that proves impossible, obtain leniency in sentencing. Our award-winning best criminal defense attorney near me can be your legal warriors in both state and federal courts for serious crimes like domestic violence, Medicare fraud, embezzlement, felonious assault, drug trafficking, or possession of large quantities of controlled substances.
Hiring Experienced Lawyers Near Me in Michigan: Who Are the Best-Rated Criminal Defense Attorneys?
Contact the Barone legal team 24 hours a day at our handy toll-free number, 1-877-ALL-MICH or 877-255-6424, for a free criminal case review. The Michigan attorneys at Barone Defense Firm will travel the entire Great Lakes State, defending those citizens in trouble for alleged criminal law violations. When talking with one of our legal team members, ask about lawyer costs and payment plans.