Is Aggravated Assault a Felony? Aggravated Assault Michigan
What are Michigan Assault Charges? Our Michigan assault laws in the Great Lakes State has both Michigan misdemeanor assault laws and felony agg assault charges. It may seem to some readers that Michigan's assault laws are so broad and comprehensive that a citizen engaging in a stupid act may be prosecuted for the inappropriate behavior.
Misdemeanor assault Michigan. Attempting to kiss another person could result in an arrest. If convicted, this is a misdemeanor punishable by a potential, hefty fine, and possibly be placed on probation, at a minimum. For some, jail time is going to be ordered, followed by a period of probation.
Either being sentenced to jail time or being put on probation can create lasting repercussions. And yes, you can be found guilty of assault in Michigan without actually making any physical contact. If you are facing aggravated assault charges, you positively need legal help from top rated criminal defense attorneys, private or a public defender.
The facts of each case will determine which statute the Prosecutor opts to accuse, in each case. This page explains some information on how to beat a felonious assault charge in Michigan, if a viable defense is available.
Assault and Battery Michigan punishments. As defined by Michigan law, aggravated assault is a felony. There is no aggravated assault misdemeanor law.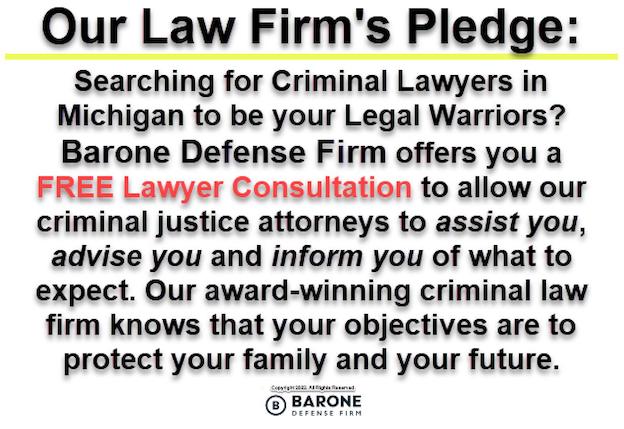 When is an Assault a Felony in Michigan?
The "aggravated" crime is different than simple assault because a serious injury could have resulted from the conduct that occurred, which is why lawmakers created felony punishments. MCL 750.84 is the Michigan statute applicable to an assault with intent to do great bodily harm, but less than murder.
Penalty for Aggravated Assault. These are felony crimes, with the foregoing code section calling for a potential sentence of up to ten (10) years in State prison. Below is the more serious aggravated assault crime.
The more serious crime of attempting to murder under MCL 750.83, is a more serious felony wherein a judge can sentence to any number of years, without limit. Aggravated assault sentencing ranges from reasonable to frightening in its extreme felony crimes. Michigan has no misdemeanor aggravated assault crimes.
Also, Michigan laws for this type of crime on certain state and public workers has its own list of more stringent penalties, when the victims match the protected categories of officials "performing their duties." See paragraph 7 of MCL 750.81 d.
Is Aggravated Assault Felony or Misdemeanor?
So, a felony aggravated assault charge has all the same things of a simple assault except for that the person got seriously injured by the assault. However, depending on how serious the assault is, the penalties will vary widely.
What about a first-time assault and battery charge Michigan? Simple assault and battery could bring up to a maximum of 93 days in jail. But misdemeanor assault charges in Michigan also can carry up to two years of probation. The most minor of the felonious assault crimes, under MCL 750.81a, can carry up to five years of probation or jail time. For the most serious crimes, a person can go to prison along with a period of parole after release from the facility.
In aggravated assault cases, the level of intent is the same. This means that the person was either reasonably in fear of an immediate battery or had the intent to injure someone.

A Michigan aggravated assault lawyer can review the case against you and help create the most appropriate defense for your future. If you are being accused of aggravated assault, contacting a distinguished assault lawyer in Michigan may be critical to your case.
In Michigan, the definition of aggravated assault entails a serious injury that comes from case law and the manifestation of that case law set forth in jury instructions. An aggravated assault injury means one that requires immediate medical treatment or that causes disfigurement, impairment of health, or impairment of a part of the body.
A Michigan aggravated assault attorney can disclose to an individual that the penalties associated with the charge are up to a year in jail, a fine of up to $1,000, and two years of possible probation. Based on an assault and battery, having an assaultive crime on record (e.g., attempt to commit a battery), even though it is a misdemeanor, can cause future or present employers to either fire the person or not hire them. These charges can also cause collateral consequences for international travel and immigration.
People can be deported based on that as a crime of moral turpitude. There are many issues with a conviction, such as a negative effect on volunteer opportunities. Further, it can impact an individual's background checks. A person may not be able to volunteer or maintain their current job if they have an assaultive crime on their record. Due to the severity of these consequences, an individual should not hesitate before consulting with an aggravated assault attorney in Michigan as soon as possible.
Felonious Assault is "Assault with a Deadly Weapon"
Assault with a deadly weapon is sometimes called a felonious assault. Assault with a deadly weapon under MCL 750.81d is punishable by up to four years in prison, a fine of up to $2,000, or both, and then up to five years of probation.
Examples of deadly weapons include a gun, revolver, pistol, knife, iron bar, club, brass knuckles, and any other dangerous weapon. In certain ways, any common object, even something like a fork, might be brandished or used in such a way that it could be considered a deadly weapon under the facts and circumstances.
Even a vehicle, for example, could be used as a dangerous weapon. A deadly weapon is not always just those things one might normally think of, but most of the time, these crimes involve implements, tools or other things like guns and knives. In that situation, if a person did not intend to commit great bodily injury, a crime less than murder or murder would put them in the category of felonious assault or assault with a dangerous weapon.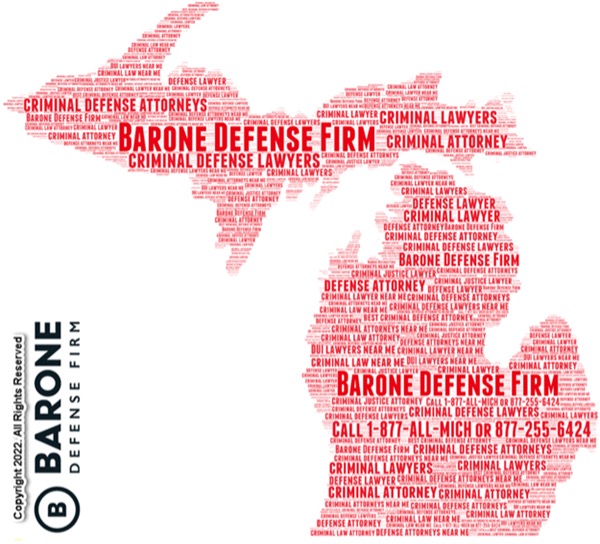 Lawyers for Aggravated Assault or Simple Assault at Barone Defense Firm: Statewide Coverage
Because our legal firm offers statewide coverage and free initial lawyer consultations, why not contact our assault lawyers to review your aggravated assault charges? This way, our legal professionals can apprise you of what you are facing, and ask questions designed to identify potential defenses.
Call 24-7 since we are always on duty. Dial our toll-free number, 1-877-ALL-MICH or 877-255-6424, for a free criminal case review. What do you have to lose, with a FREE call?