DUI Lawyers in Michigan: OWI Defense Attorneys Near Me
Who is the best DUI lawyer in Michigan? At the Barone Defense Firm, our criminal law attorneys believe that a Michigan DUI defense attorney is called "Attorney and Counselor" for a reason. For those who cannot afford the impact of pleading guilty, our criminal defense attorneys will "pull out all the stops" to prevent this traffic stop from turning into a criminal record for OWI in Michigan.
Our DUI attorneys embrace our roles as counselors by carefully interviewing clients to better individualize their criminal cases for the prosecutor and judge. If you are hiring a DUI defense attorney to challenge the State's breath test, don't entrust such a complex case to a recent law school grad, just to save money.
Welcome to our OWI-DUI website. The information on this extensive online resource permits our clients statewide to get to know our law firm's DUI-OWI attorneys in my area. Being able to cover all the Great Lakes State, with an experienced DUI defense attorney from our firm fighting criminal cases, is not offered by many legal teams defending cases in Michigan.
To fight against a DUI conviction, our experts on Michigan DUI laws can help you prepare your testimony so that it is clear and reliable should we need to go to court. The reality is that in most drunk driving cases, our clients do not testify at trial but may testify at pretrial motion hearings, that are conducted in front of a judge only.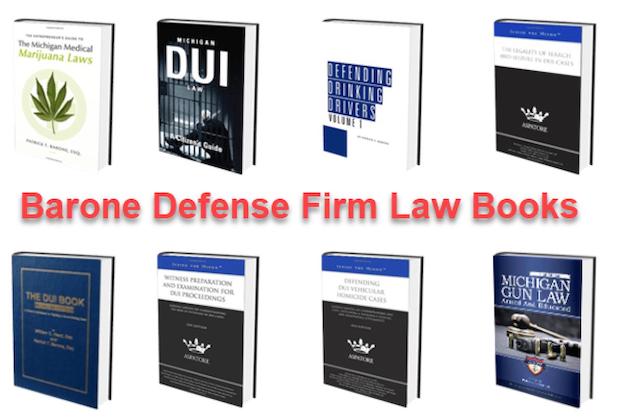 This also helps us identify lifestyle patterns that may have led to the drunk driving arrest, as well as other needs, feelings, and fears that the client may be experiencing. Our Michigan OWI lawyers do this because every case is unique, and we want to help guide our clients through this tumultuous and uncertain time.
The Role of Your Michigan Defense Attorney (DUI-OWI Lawyer). If you look at number of years that Super Lawyers has recognized an attorney for DUI near me, that top DUI law attorney appears to be Patrick Barone, the MI-DUI-attorney who has written several books on DUI defense both nationally and in Michigan.
Our Firm's Aggressive Michigan DUI Case Approach
Because our OWI defense lawyers approach each client as an individual and not just a case number, we are interested in treating the "whole patient"—not just the symptom. This means that we want to know what is going on in your life that caused the OWI arrest in the first place.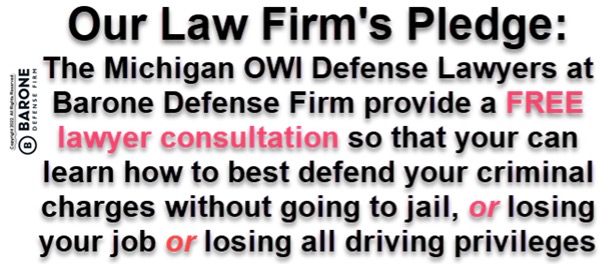 In some cases, a person may be battling underlying issues, such as alcohol or drug addiction. In these situations, our Michigan DUI crime lawyers can help identify the need for help with this threat to your livelihood and assist in obtaining the proper treatment so that our client can begin the road to recovery.
While our record of results speaks for itself, it is not up to us to determine what a "successful" outcome will look like in your case. During the initial interview process, our attorneys will discuss your goals for the case and how you will define success given your unique situation. It is then our job to reach these goals and obtain a favorable outcome for you.
In the Great Lakes State, they need an OWI defense attorney who is highly knowledgeable about operating a vehicle while under the influence cases. Michigan laws broadly prohibit being in actual physical control or operating a motor vehicle while intoxicated by alcohol or impaired by a controlled substance.
Too Poor to Retain Legal Counsel? These OWI in Michigan cases are so serious that indigent individuals have the right to have public defenders appointed. Every person needs good D.U.I. lawyers nearby the court location for their representation, and a judge in your court can appoint a drunk driving defense attorney for your legal representation and try to help you stay out of jail.
Those who call our top OWI lawyers near me in Michigan are typically everyday citizens, law-abiding and hard-working. Their goal is to try to avoid a criminal conviction and license suspension by retaining a skilled DUI defense lawyer to keep their criminal history clean.
Driver License Suspension in OWI vs DUI Cases
Under Michigan's laws, a driver arrested for intoxicated driving potentially faces an administrative license suspension for 180 days. By having legal counsel assist that driver to file an appeal within 14 days after arrest, this case be cut to 30 days, in most cases.
By possibly having had one drink too many, the person now faces DUI charges of driving while under the influence of alcoholic beverages and needs top quality legal representation. Making a mistake and now facing a DUI offense should not be followed by hiring the wrong defense attorney to handle this all-important case.
Finding the best drunk driving attorney Michigan. When law enforcement officers and state prosecutors try to paint you as a criminal, you need an experienced DUI defense advocate on your side who understands your situation your need to retain driving privileges. What if you could retain a top-quality law firm whose senior partner wrote the book on drunk driving laws in Michigan, as well as a national DUI-DWI book?
You are on that very D.U.I. lawyer's website! Why look further for other drunk driving lawyers near me when our Michigan law firm led by criminal DUI attorney Patrick Barone has 7 top rated DUI litigation professionals near me to serve you and can guide you through the process with compassion and empathy?

Let our experienced Michigan OWI lawyers build a defense and ensure you know what to expect at each step of the legal process. Call today and schedule a consultation with our experienced DUI lawyers in Michigan who have defended thousands of DUIs. En Español.
See the Michigan OWI Penalties Infographic Set Forth Below: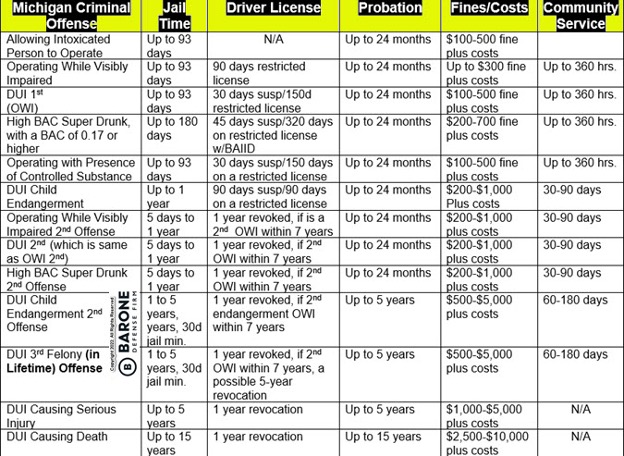 For over 20 years, the Michigan DUI defense lawyers at The Barone Defense Firm are focused on helping people win back their lives. That means assigning one of our excellent drunk driving attorneys near me to help you in restoring your life to the way it was prior to the DUI arrest problems that you encountered.
Our legal professionals are skilled in fighting field sobriety tests, flawed blood testing results, or a Datamaster breath alcohol test result. Utilize this links to look up more information about your potential misdemeanor jail time on a felony DUI case and learn how 360 hours of community service can cost many OWI drivers all their current, available vacation time from work to perform.
The Best-Rated DUI Defense Attorney Near Me Who Knows Michigan OWI Laws
The legal blood alcohol content (BAC) limit for drivers over 21 in Michigan is .08%. If you are found driving while having a BAC of this level or higher, you can be charged with operating while intoxicated, or OWI.
The state's Zero Tolerance law makes it a crime for underage drivers to operate a vehicle with a BAC above .02%. The state's Super Drunk law makes it an even more serious crime to have a BAC at or above .17%.
BAC is typically determined through a breath, blood, or urine chemical test. Please note that even if you refuse to submit to a chemical test, you can still be charged with drunk driving and face penalties and a suspended drivers' license.
Though the specific punishments will depend on several individual case factors, a person convicted of impaired or intoxicated driving can typically expect jail time, fines, and court costs. In addition, some type of driver's license sanction will occur upon conviction, making it imperative that an OWI attorney in Michigan is contacted.
Legal Fee Payment Plans and Free Lawyer Consultation
Our Michigan attorneys are highly trained, drunk driving defense lawyers. Our legal firm offers flexible payment plans to suit our clients' budgets. Additionally, our Michigan OWI attorneys offer free, confidential one-hour case consultations in person or over the phone. Even if you don't hire us, contact us, and let us hear your story and help you in any way we can.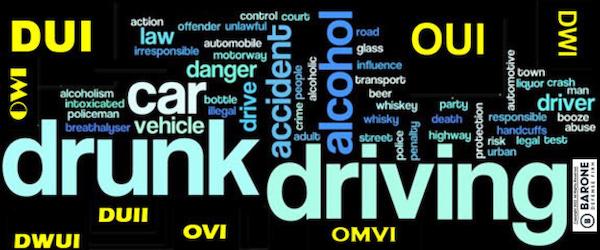 Arrested in another state? If you need an OVI lawyer in Ohio, or a Pennsylvania DUI defense lawyer near me, or a Minnesota DWI defense attorney near me, our criminal law professionals can help. Just call and ask us for a referral in the State where you were arrested.
WARNING! MICHIGAN 14 DAY LIMIT TO APPEAL– If you refused to take a breath, blood, or urine test after being arrested for Driving Under the Influence, OWI/OWVI, or another drinking related charge in Michigan, your license is at risk of being suspended.
Failing to take appropriate action within 14 days after your arrest can cause you to lose all ability to drive in Michigan. You must let our OWI attorneys near me help you demand an administrative hearing before the 14-day deadline expires.
Can I get a Free OWI Lawyer? Yes, if your financial resources and monthly income fall below the poverty level, you can qualify for appointed DUI-OWI attorneys. We can discuss this when you call our firm.
Do not think that you can be effective as your own legal counsel, when even an indigent person is constitutionally entitled to no-cost lawyers for DUI near me, in the court where their case is pending. Get more information about winning your case and saving your driver's license NOW before it's too late, since this deadline cannot be extended.
Any person submitting a contact form text message or voicemail for an OWI lawyer near me with our office, or who fills out a contact form sends information that will be kept confidential by our legal firm.