Michigan Criminal Defense Lawyer: Detroit Gun Crime Attorney
By: Firearm Attorney Michigan, Patrick T. Barone
Enshrined into the fabric of our nation by virtue of its appearance in the Bill of Rights, the Second Amendment's grant of a right to bear arms has never been free from controversy. Each state is responsible for delineating the circumstances under which its citizens may purchase, hold, and use a broad range of firearms and other weapons. Those who violate the laws, even unintentionally (by not learning and following the firearms concealed carry rules in Michigan), can face jail time.
Michigan is no exception, and the legislature in the Great Lakes State has enacted rules that impose a series of rules and regulations on obtaining a concealed weapon permit (CWP). Without question, gun rights in Michigan are not without limits, and it is important for those wanting to avoid an arrest for a concealed firearm charge to understand the situations under which weapons charges can be lodged. This will involve obtaining a CPL (concealed permit license) in the State of Michigan.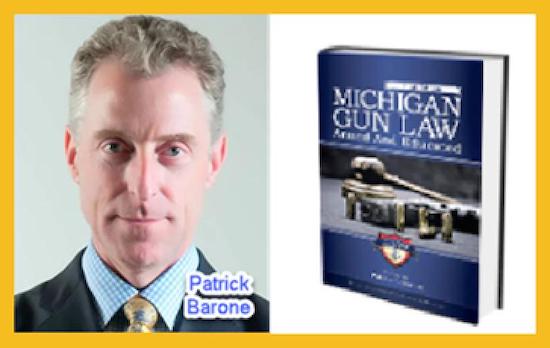 The author of this article for gun owners, Patrick T. Barone, is the author of a book on Michigan gun laws. He and his other gun lawyers in Michigan, are also well-known criminal defense attorneys who handle many criminal cases involving (1) illegally carrying a concealed firearm, (2) domestic violence charges that can take away a person's gun possession rights, and (3) other concealed carry vs open carry disputed arrests in Michigan.
Whether you are facing a concealed weapons accusation or criminal charges for illegal felony possession of a firearm, a Michigan gun lawyer can help you navigate the complicated statutory terrain in order to secure the most positive outcome possible under the facts of your case. En Español.
How to Obtain a Concealed Pistol License in Michigan
First Objective to Complete: Complete a firearms training course in MI, if required by your age or background issues.
2nd Step: Via the Internet, you can download the firearm application or go by the county clerk's office where you live (example: Grand Rapids).
3rd Step: Bring a "passport-quality" headshot, plus your proof of training and your identification showing your address, to the county clerk's office (must be the county in which the applicant resides), and (in front of a notary) sign the application under oath.
4th Step. Pay the fee.
5th Step: Next, go to a location that can obtain classifiable fingerprints. In some counties, the county clerk does this, or the Michigan state police, or at the county sheriff's office, or at a city police department (or any other approved entity) that provides official fingerprinting services. You also will need to provide the pistol application receipt to whichever fingerprint agency you use.
6th and Final Step: Within 45 days after all documentation is supplied and payment is made, your local county clerk shall either (a) issue a concealed carry permit license or (b) will send out a notice of your statutory disqualification (under Michigan's concealed carry laws) within that same forty-five (45) days after the date the applicant has her or his classifiable fingerprints taken.
The largest number of cases each year occur in Wayne County.
Defending Your Pending Firearms Charges in Michigan
All Michiganders need to understand that gun ownership rights within the state are clearly defined, and penalties will be imposed upon those convicted of running afoul of the law. The most commonly charged offenses in Michigan relating to guns include:
Carrying of a concealed weapon
Felon in possession of a firearm
Illegal possession of certain prohibited types of short-barreled firearms
Possession of a firearm while committing a felony
Carrying a firearm in prohibited spaces, such as school zones
Penalties for Gun Offenses in the Great Lakes State
The Michigan Penal Code's firearms provisions are lengthy and indeed complex, particularly when considered with relevant federal firearms laws. Given the numerous ways in which a citizen can find themselves facing a gun charge in Michigan, it is important for everyone to fully grasp the possibly life-altering consequences of a conviction. Individuals found guilty of breaking Michigan or federal gun laws may face:
Lengthy periods of incarceration
Long-term inability to own a gun
Imposition of exorbitant court costs and punitive fines
Loss of professional license
Loss of employment
Lasting criminal record
Damage to immigration status such as green card or visa revocation and perhaps even deportation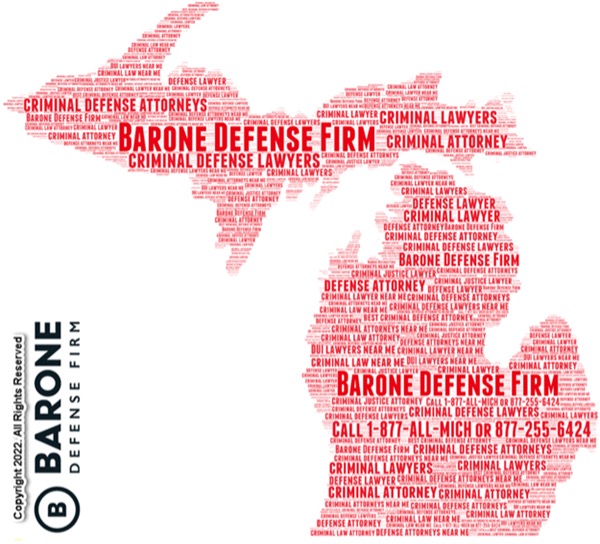 Defending Against Gun Crimes Charges in MI
Though learning that a gun charge is pending against you can be a paralyzing experience, it is important to keep in mind that viable defenses are often available, and a Michigan firearm attorney with Barone Defense Firm will work hard to formulate an effective strategy. Some common issues that can form the basis of such a defense can include:
Actual intent in carrying the gun at issue
Whether the weapon was loaded at the time in question
Whether the weapon was in fact functional
Actual knowledge about whether the gun was in an individual's personal possession
Whether the individual was in fear of imminent harm at the relevant time
See this case history for an outstanding criminal case outcome in another gun rights case.
Aggressive Gun Crimes Defense in the State of Michigan
Considering the substantial penalties that the state can impose upon those convicted of gun offenses, it is vital that accused individuals act promptly to secure the strongest possible legal defense. Don't talk to police or investigators without your criminal lawyer being present.
Call today to our toll-free number, 1-877-255-6424, to speak with a criminal attorney near one of our local offices, to discuss your firearms case and begin building your criminal defense. Ask about our attorneys' fees payment plans for our criminal law clients.
If you would like to learn more about your rights and enlist the aid of CPL lawyers in Michigan who will vigorously advocate on your behalf, contact a nearby gun crime lawyer today. Obtain a no-cost, 100% free consultation with one of our many criminal law attorneys who can explain what "lawful possession" means in Michigan.
Call Today! FREE Consultation Lawyer and Receive Immediate Attention for Your Michigan Firearms Violation Case