Michigan Criminal Defense Lawyers: Attorneys Near Me in MI
For many people, nothing is more frightening and possibly life-altering than learning that they are the target of a criminal investigation or charge. This is because a criminal conviction can devastate a person's life and can produce a wide array of negative impacts on driving privileges, freedom to travel, and the ability to retain a valuable job.
On top of county jail time, or a lengthy prison term, monetary costs can require fines and surcharges, time-consuming probation conditions, possible restitution requirements and a criminal conviction that may even prevent you from voting. In an increasingly diverse America, for some clients and adverse immigration impact (i.e., possible deportation) and the inevitable familial disruptions that can follow that type of severe sanction from being convicted of a criminal offense.
The most common and painful drawback to losing criminal cases is job loss, or retaining the job with new, conviction-related employment difficulties (e.g., no longer being allowed to use a company vehicle). For some professional clients, like doctors, attorneys, dentists, chiropractors and registered nurses, certain types of convictions can take away their professional license.
Free Legal Advice. With so much at stake, a Michigan criminal defense attorney with a "no quit" attitude can be a vital ally in helping and accused citizen fight their case. This begins with a free consultation lawyer with a legal warrior from our law firm.
In the no-cost initial, confidential consultation, Barone Defense Firm reviews the available case information for legal issues to help your cause. Do not worry about having the benefits of an attorney-client relationship, since any lawyer interview is confidential, even in a free lawyer consultation from a member of our legal team.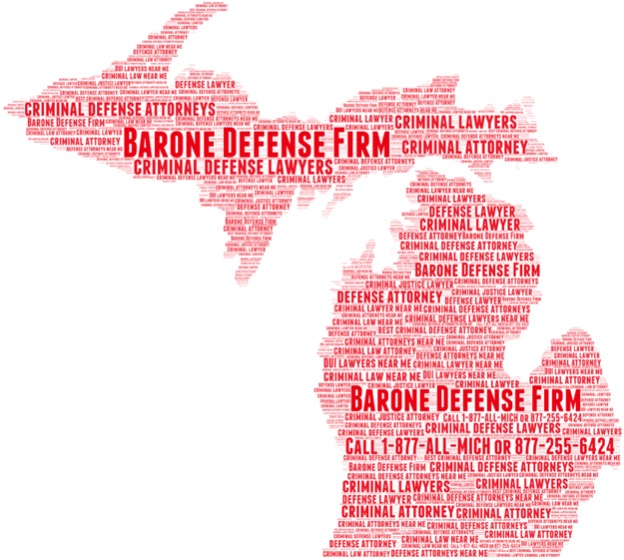 During this interview and briefing, our searching for defense strategies, flaws in the arrest procedures and booking process, and go over the possible penalties under Michigan or federal laws. It is very common (at the beginning of a criminal law case) that neither the client not the lawyer interviewing her or him will know a great deal about the evidence collected by the police.
Because being accused under the criminal justice system will bring one or more state prosecutors or federal prosecutors into the case. These government employees basically are the lawyers for the prosecuting "entity," (either the United States attorney in federal cases or the State of Michigan in state crime cases).
Therefore, all accused citizens not only need a criminal justice lawyer for their criminal defense, but a best criminal defense attorney. The idea that you can only retain a criminal lawyer near me is a failed strategy, since you need to look at the quality of your legal professional, and not one that happens to be nearby.
Felony vs Misdemeanor: Felony Definition versus a Misdemeanor
In Michigan, a misdemeanor conviction brings much less severe potential consequences than those indictments or accusations stemming from felony charges. Insofar as jail time, misdemeanor punishment is capped at 12 months, per misdemeanor offense. One major distinction is that in many misdemeanor-level cases, a criminal law attorneys will be able to quote you a flat fee for your legal representation.
One quick note needs to be posted for those searching online for "cheap criminal lawyers near me," or similar "bargain" lawyers. If you are too broke to hire high quality legal counsel, you should seek to have a public defender appointed to represent you. At least you will know that these state-paid lawyers focus exclusively on criminal law near me and handle no other kinds of litigation cases.
On the other hand, felony offenses create the possibility of state prison time of one year or longer. In the Great Lakes State, these incarceration punishments can range from one-year of imprisonment to several decades. For the most serious crimes, a life sentence can be ordered. Any criminal justice attorney can tell you the other collateral loss of legal rights that follow a felony conviction.
Not unlike other states in the USA, Michigan laws clearly delineates between crimes considered to be relatively minor in nature and those which necessarily carry more severe punishments. Mich. Comp. Laws § 761.1 sets forth the relevant crime classifications and the potential sanctions for each category of crime.
Of course, these extremely general categories have numerous degrees of distinctions within them, depending on the sort of criminal acts alleged, and anyone accused of a crime in Michigan (e.g., domestic violence MI) owes it to themselves and their dependent family members to pursue all available avenues of defense.
Commonly Charged Crimes in Michigan
As is true of all states, the criminal statutes in Michigan cover an expansive landscape of offenses, and a seasoned attorney can aid in the development of an effective line of legal defense. Among the most frequently seen criminal charges in the state of Michigan are:
Weapons-related charges
Drug crimes
Homicide crimes
Assault and battery
Sex crimes
Because the preceding list of offenses is just a small selection of the criminal charges Michigan residents may find themselves facing. Thus, it is vital that anyone accused of wrongdoing retain a Michigan criminal attorney who has a comprehensive understanding of Michigan statutes.
Any "finalists" for being your criminal defense attorneys near and must possess a strong track record of success on behalf of his or her clients. In addition, common sense tells you that a law professional that is part of a multi-lawyer office has the benefit of collaboration with all members of the larger law team.
Hiring An Experienced Attorney: Who are the Best Rated Criminal Defense Lawyers Near Me?
Contact us 24 hours a day at our easy to remember toll-free number, 1-877-ALL-MICH or 877-255-6424, for a free criminal case review. The Michigan lawyers at Barone Defense Firm travel the entire Great Lakes State, to help citizens in trouble with alleged criminal law violations.
Our litigation team is led by Patrick Barone, a DUI and criminal defense legal book author (multiple publications) and recipient of Super Lawyers honors for the past 16 years in a row. When you speak with one of our legal team members, ask about payment plans, for your legal fees.
By speaking with our experienced criminal lawyers near me about your specific legal charges, our #1 goal is to allow you to mentally shift this burden off your shoulders and over to the shoulders of our legal professionals. As with most of Life's challenges, acting sooner, rather than later, typically results in a better legal case outcome.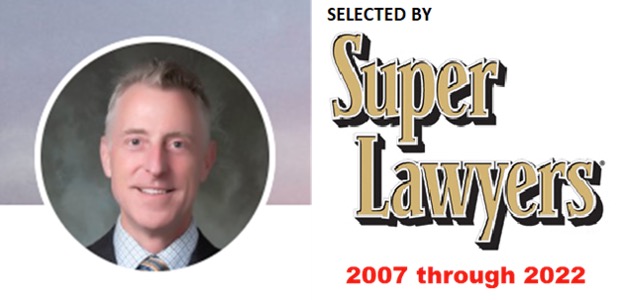 It is incumbent upon all defendants to "lawyer up" and aggressively assert their legal right to equitable treatment within the criminal justice system. A criminal attorney from Barone Defense Firm can help you do precisely that by attacking and exposing weaknesses in the prosecution's case at every possible turn.
Anyone who has ever faced a criminal charge understands how gut-wrenching and fraught with uncertainty the entire criminal prosecution process can be. If you are interested in learning how a Michigan criminal lawyer can advocate on your behalf during what is certainly a most challenging time, contact us today.
Our firm also serves the following locations:
An experienced criminal attorney in Michigan will work diligently to obtain a reduction or even a dismissal of pending charges, or where that proves impossible, leniency in sentencing.