Suspended License Attorney: MI OWI & Driver's License Lawyer
By: Patrick T. Barone, Principal Partner leading a Team of Michigan Criminal Defense Lawyers for License Reinstatement
Many Michiganders take their right to drive for granted until some legal problem (criminal offense) suddenly puts them in the position that their driving privileges are at risk. In short, you need the help of a lawyer to help get license back and want to hire an attorney to oversee a successful driver's license reinstatement.
Retaining an attorney for driving with a suspended license. The urgent need to identify and retain the best driver's license restoration attorney Michigan legal team usually brings clients to our criminal justice attorneys. For most clients, their goal is to eliminate being without the right to drive.
Finding a lawyer to help get driver license back. While most Barone Law Firm clients tell us that they need a driver's license lawyer after being arrested of an OWI charge (more commonly called "DUI"), other clients have been arrested after they drive on a revoked or suspended license.
Possibly second on the list is the impact it places on a non-custodial parent who needs to be able to drive his or her children. Then, all the everyday tasks that are needed to be performed like going to the bank, medical appointments, or grocery store can cause devastating impacts to a person's daily life.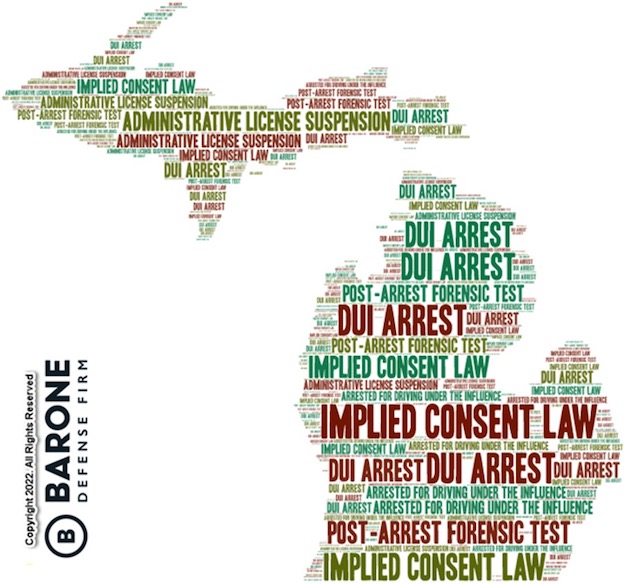 How to immediately meet with our lawyers that help with suspended license. If you think that you need a driving license lawyer near me, since you currently have no license, don't sell yourself short on legal counsel just because you presently cannot drive.
Thanks to modern technology, through ZOOM or many other virtual meeting apps and websites, our driver's license attorneys near me can meet you "face-to-face" on a cell phone or other device.
After helping thousands restore their driving privileges after a license revocation or through some other license appeal, the legal professionals at Barone Defense Firm have a license restoration lawyer near me to help with your criminal defense and to reinstate a Michigan driver's license.
Identifying a lawyer to reinstate license. In many Michigan criminal law cases, the loss of license punishment can create great hardships. The most common is loss of employment.
These 5 Basic Driver's License Lawyer Tips that will Help you to Know What to Expect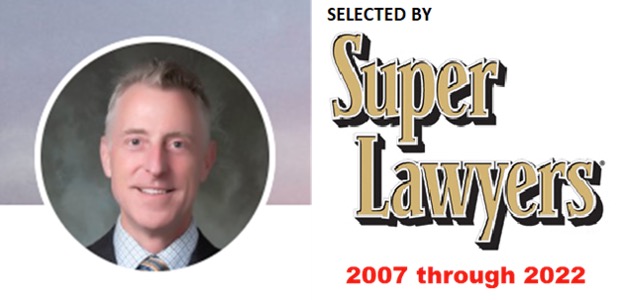 Providing an overview of what lies ahead will be helpful to those facing loss of driving privileges. As the various steps and procedures (overseen by the Michigan Secretary of State's office) which will be needed to restore your MI driver's license are laid out, you can see the path to recovering your right to drive again.
The attorney for driver's license suspension can only do so much. No matter how skilled he or she may be, the license reinstatement attorney must have the client's full "buy in" and cooperation, for driver license restoration to work.
In addition, this short list puts a spotlight on the edge you receive by retaining legal representation to "coach" you along the way to achieving your goal. The Michigan driver's license lawyer will be acting much like a coach of a player.
From the standpoint of the player, she or he has many tasks and steps to follow for any driver's license attorney (who is an expert at helping clients with suspended license issues) to do his or her job.
Our lawyers will need your driving record. This is best provided by the official Michigan SOS records, versus relying on memory or partial paperwork from prior legal cases.

Don't drive on a suspended license. If you are already suspended or revoked, and you are now seeking legal help, make certain that you DO NOT DRIVE while in this status? Why is this warning needed?

Many Americans are not aware that police now use automated license plate readers (ALPRs), which can scan and immediately report to a nearby law enforcement officer any license plate of a suspended or revoked driver. Such a "hit" by their automate computer technology will authorize a traffic pullover to see if that driver is violating MI laws.

You risk an automatic additional year of total suspension, or more, being added to your loss of entitlement to drive. Those caught driving without a license will find that a brand-new suspension period gets tacked on to after the other pending suspension or revocation has ended.

The State of Michigan imposes very heavy "rehabilitation" oversight for any drivers caught driving while intoxicated. This is increased for OWI child endangerment cases. The mandatory, court-imposed requirements will have any offender being periodically tested, or driving on an ignition interlock device, and any "sanction" for being caught consuming alcohol while on probation.

In fighting for driver's license restoration and handling reinstatement clearance appeals our client must be able to prove that he or she has given up drinking, through various documentation (and accountability measures) that our drivers' license restoration lawyers near me show you how to handle.

When working with a suspended license lawyer near me or revoked license lawyer, the need to stay out of new trouble is critical. Your license reinstatement lawyers near me cannot protect the reinstatement process if your new arrest vitiates (un-does) the work that we have put into your case.
To get your driver's license back you are going to need to request a hearing through the Secretary of State's Office of Hearings and Administrative Oversight (formerly Administrative Hearings Section or AHS). When we appear with you before a hearing officer, we want the outcome to be one that helps you get your life back!
Requesting a Driver's License Hearing in Michigan
Contact us 24 hours a day at our law firm's easy to remember toll-free number, 1-877-ALL-MICH or 877-255-6424, for a free criminal case review. The Michigan attorneys near me at Barone Defense Firm travel the entire Great Lakes State, to help citizens in legal trouble in the Great Lakes State for alleged criminal law violations.
For your FREE lawyer consultation, call today to learn how to protect your yourself from a possible unwarranted conviction. What do you have to lose, when the free legal advice with our litigation team's criminal lawyers near me can answer many tough questions?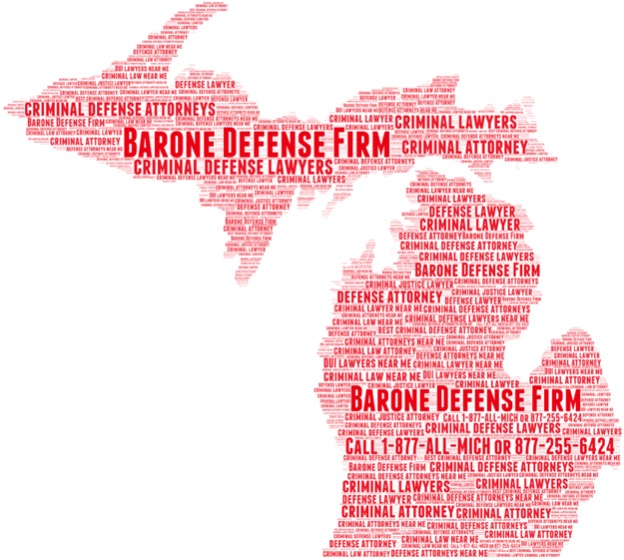 Disclaimer: Submitting a contact form, sending a text message, making a phone call, or leaving a voicemail does not create an attorney client relationship. While a free lawyer consultation is provided, this does not signify retaining a lawyer. Only when a free contract with all details of your payment plans set forth is signed does that attorney-client relationship begin.