How Do I Find a Top Michigan DUI Lawyer?
How Do I Find a Top Rated Drunk Driving Lawyer in Michigan?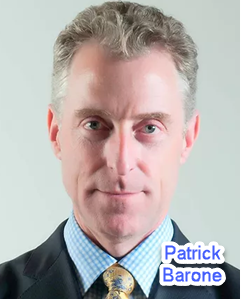 If you've been arrested for operating a vehicle while intoxicated, also called DUI/OWI in Michigan, then you're looking at potentially severe penalties. Your driving privileges can be suspended or revoked causing you to lose your drivers license and your ability to drive.
For many kinds of drunk driving cases, you're also looking at the real possibility of jail time. Even if this is your first DUI arrest, you'll want to find a top rated drunk driving lawyer in Michigan.
DUI charges are hard to defend. Especially when breath and blood tests are involved. This makes a DUI case one of the most difficult criminal cases to win.
For many people, finding a top Michigan DUI lawyer can be a confusing and difficult task. A task made no easier by the multitude of available choices. Here are some things to consider.
Legal fees for DUI vary considerably. However, most lawyers charge around $4,000-$5,000. The top drunk driving lawyers charge considerably more than this. However at the Barone Defense Firm we have a range of legal fees, and we also offer payment plans for most people.
How Do I Know Someone is Really a Top Rated DUI Lawyer in Michigan?
We know how difficult it can be to find a great lawyer. Most lawyer websites look the same, and they say how great they are. Still, an internet search is one of the best to find a great DUI lawyer. Start with a Google search for "top Michigan OWI Lawyer near me." Because this will return over ten million hits you'll to do more than just hire the lawyer listed at the top of the page.
To begin with, there is no substitute for a professional referral. If you have used a lawyer in the past for something like drafting a will or the sale or purchase or your home, then you might think about contacting them for a referral.
Even though you might be embarrassed, remember that everything you discuss with your lawyer will be held in strict confidence. Once your referral source has provided you with one or more names, you can then cross-check them by looking on Google. The DUI lawyers at the Barone Defense Firm obtain most of their clients from referrals.
Lawyers that Possess These Credentials are Certain to be a Top Michigan DUI lawyer
Authorships – Book authorships are one of the best ways to confirm your lawyer is really a top rated DUI lawyer in Michigan. Be careful even with this because not all books are equal. Self-published books are still impressive, but they are not subject to peer review like the top publishers of law books These include James Publishing and Thomson Reuters Aspatore Legal Books. Reputable legal journals include Michigan Bar Journal, the SADO Newsletter and the Champion Magazine. Reputable legal journals include Michigan Bar Journal, the SADO Newsletter and the Champion Magazine. The Michigan DUI lawyers at the Barone Defense Firm have published in all of these sources. Mr. Barone is the author of a two-volume legal treatise entitled Defending Drinker Drivers. First published in 1986, Defending Drinking Drivers is an indispensable resource for DUI lawyers around the Country. Mr. Barone has also written several chapters for Asaptore's "Inside the Minds" series on DUI defense. Here is Patrick Barone's Amazon Author Page.
Law School Adjunct Professor: The adjunct law school faculty are practicing lawyers recognized as being the top legal authorities in their particular areas of practice. In 2006, Barone Defense Firm founding partner, Patrick Barone was recruited by the Western Michigan Cooley Law School to teach a course he developed specifically for them entitled "Drunk Driving Law and Practice." In this course Mr. Barone teaches aspiring lawyers about the Michigan DUI laws as well as the science of breath and blood testing. There is also a DUI trial skills portion in this class where Mr. Barone teaches law students the nuts and bolts of a DUI trial.
Other Academic Appointments. Law schools are not the only kinds of academic appointments available. Look to see if your Michigan DUI attorney candidate is an editor of a publication or is on the faculty of any criminal law or trial practice colleges? The Michigan DUI lawyers at the Barone Defense Firm have held faculty positions with NCDD, BAC Tracker Software and have taught at the Gerry Spence Trial Lawyer College. Mr. Barone also offers psychodrama trial skills training to other lawyers through the Michigan Psychodrama Center. And Mr. Barone was the editor of the Whitaker Newsletter "The DUI Journal: Law and Science."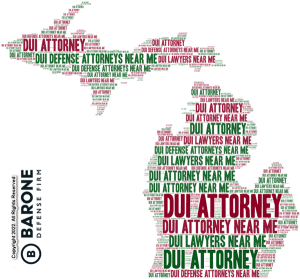 Continuing Education Seminar Speaker: As with book publications and professorships, lawyers that each other lawyers are typically at the top of their game. It is fair to conclude that if a lawyer is training other lawyers then he/she is a recognized expert in the field. When deciding if your candidate is a top Michigan DUI lawyer look at their accomplishments and see if they have ever spoken at a DUI defense seminar.
Specialized Membership or Professional Affiliations. All Michigan DUI lawyers must be members of the Michigan State Bar. All other professional memberships are voluntary. Look also for sustaining memberships and leadership positions. Review your Michigan DUI lawyer candidate's resume to determine if they are members in any or all of the following: The Michigan Association of OWI Attorneys, the Gerry Spence Trial Lawyer's College (TLC), the National College for DUI Defense (NCDD), The National Association of Criminal Defense Lawyers (NACDL), and the American Society of Group Psychotherapy and Psychodrama.
Attendance at Advanced Training Seminars. Even lawyers that teach and write books need to stay on top of what is happening in the field of Michigan DUI defense. Defending allegedly intoxicated drivers is one of the most complicated areas of practice and attending seminars is a way to get fresh ideas. At a minimum you should look to see if your DUI lawyer candidate has obtained certifications for Standardized Field Sobriety tests? Also look for advanced training in breath and blood testing. One final thing to look for is being a graduate of the Gerry Spence Trial Lawyer's College. And because psychodrama is the bedrock of the Gerry Spence method, look for a lawyer with significant psychodrama training. The Michigan DUI lawyers at the Barone Defense Firm have all this training and more.
Disciplinary Actions. With the internet it is now easier than ever to determine if a lawyer has ever been disciplined for an ethical violation? The last think you want is to get involved with an unethical lawyer! Search the lawyer's name, look on AVVO or call the Michigan State Bar to find out if your lawyer has ever been disciplined.
Focus of Practice. Top Michigan DUI lawyers will either restrict their case load so that they only handle intoxicated driving cases or make DUI cases most of their focus. This is another thing that's easy to check on AVVO because they have a pie graph where each lawyer can indicate how much of their practice is devoted to each area of law.
Years in Practice – There is no substitute for experience. Just like all these other credentials it is easy to check how long your Michigan DUI lawyer candidate has been practicing law. This is clearly listed on the Michigan State Bar website. Unfortunately, it's more difficult to determine how long a lawyer candidate has actually focused on DUI defense.
Don't Rely on Bogus Credentials When Selecting a Top DUI Lawyer.
As a final word of caution, don't rely on bogus credentials when selecting a top Michigan DUI lawyer. As of the date of this article there is one Michigan DUI lawyer who has a 10 AVVO rating and claims he is a super lawyer and has an AV rating by Martindale Hubble. Trouble is, this lawyer is lying. He is currently under investigation and may lose his license.

Once you've vetted the DUI lawyer candidate using the above guidelines, call their office and speak to the lawyer and his/her staff. Pay close attention to how you are treated, and how they make you feel. You aren't just hiring a lawyer your hiring a relationship and at the end of the day, you want a lawyer who can be a strong advocate and counselor.
The Michigan criminal lawyers at the Barone Defense Law Firm offers a one hour no cost case review for people searching for a top DUI lawyer in Michigan. Call us today and learn how we can save your driving record and help you obtain a great result.