The Michigan legal consent age. To not run afoul of the statutory rape Michigan law, it is critical to review the Michigan "consent" laws. Every state enacts its own rape laws relating to the age at which a female can acquiesce to having sexual relations. Making the mistake of engaging in sexual intercourse can make that older person a sex offender.
Consent age in Michigan: Sex laws. In Michigan, the legal age of consent for sexual activity is 16 years old. If an individual is 15 years old or younger, that younger person is not able to legally consent to sexual activity. For teenagers, there is what is sometimes called a "close in age exemption." This is how the Michigan's Romeo and Juliet law got its name.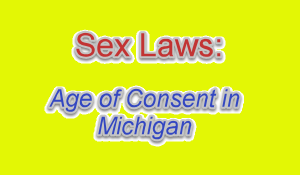 The Michigan consent age. As codified in Michigan Complied Laws 750.520e(a), this Michigan statute says that if someone is under 16 years old and engages in sexual contact with someone four years older or less, it is not a crime. The key parts of this law are that the older participant can't be more than four (4) years older and the word "contact." Essentially, this means that traditional sexual intercourse (penetration) is not allowed under this law.