What Are the Penalties for Drunk Driving in Michigan?
In a Michigan operating while intoxicated case, also called OWI/DUI, the penalties will be based on the severity and nature of the offense, and your prior record. Possible penalties include jail time, license suspension or revocation, fines, costs, community service and probation.
How Much Jail Time Will I Get?
A person convicted of a first offense OWI in Michigan is subject to not more than 93 days in jail. A second offense within 7 years is subject to as much as one-year in jail, and a felony third offense drunk driving is subject to 5 years in jail. You should know that even if you're looking at a felony drunk driving it is possible to avoid jail time.
The Judge will consider a variety of things before making the decision to send you to jail for a driving under the influence case. These may include your criminal history including prior DUIs in your lifetime. Other factors include your blood alcohol level, whether there were any children in the car, and whether you caused any property damage injuries or deaths. Collectively, the Judge will consider all of these factors when determining whether to send you to jail.
What Will Happen to My Driver License?
Aside from possible jail time, your drive license will also be suspended. Unlike jail time, the driver license penalties are not imposed by the judge. The driver license sanctions are imposed by the Secretary of State, who will learn of the conviction from the court clerk where your case is pending.
Licensing actions for an intoxicated driving conviction range from having your driving privileges restricted, suspended or revoked.
Revocations are reserved for the most serious offenses, including second offense drunk driving, and range from one year to five years. There's no guarantee that the license will be returned after the revocation term is complete.
After the revocation is imposed it will be as if you were never licensed, and to re-obtain driving privileges, you will need to apply through the Michigan driver appeal and assessment division. Revocation is defined as the termination of your driver's license.
The next most serious sanction is suspension, which is temporary. After the suspension period is complete, your driver's license will be returned after you apply for a new license at the Secretary of State and pay a reinstatement fee. There is no driving of any kind allowed during the suspension period.
If your license is restricted, then you can only drive to places allowed by law. These restrictions are always the same for everyone and cannot be modified or changed. These standard restrictions include the ability to drive to from during your employment, any alcohol drug or treatment program ordered by the court, any court-ordered probation, community service, educational programs ordered by the court, and any regularly occurring medical treatment for you or your family.
Once you have pleaded guilty or are found guilty, then the court clerk will notify the Secretary of State, who will then check you master driving record for prior offenses. You will then be notified of the driver license sanction by the Secretary of State by mail. The document you receive from them will indicate the exact nature of the penalty and the two/from dates.
The most common driver license sanctions will be a suspension, restriction or revocation of your driving privileges as follows:
First Offense OWI alcohol – Your driver's license will be suspended for 30 days, followed by license restrictions for 150 days, 6 pts, permissive BAIID.
First Offense OWVI alcohol – Your driver's license will be restricted for 90 days (180 days if impaired by a controlled substance).
First Offense Operating with Presence of Drugs – 30-day suspension / 150 restricted, 6 pts, permissive BAIID.
First Offense Zero Tolerance Minor BAC – 30-day restricted, 4 pts.
First Offense Child Endangerment – 90 restricted, 90 suspended, 6 pts.
First Offense CDL under .08 – 1-year CDL suspension, 90-day operator's suspension.
High BAC Super Drunk Driving BAC .17 or Above; your driver's license will be suspended for 1 year. You are eligible for restrictions after 45 days of suspension if an ignition interlock device is installed on all vehicles you own and intends to operate.
Intoxicated Driving Causing Death or Serious Injury – your driver's license will be revoked for a minimum of 1 year (minimum of 5 years if there was a prior revocation within 7 years).
Second Offense OWI – 1-year revocation/denial.
Third Offense OWI – 1-5-year revocation/denial.
Can a DUI Get Dismissed?

You might be wondering if it is possible to beat a DUI charge. Or maybe you're wondering how can a lawyer get you out of a DUI? First of all, it is possible to beat a DUI charge. But the truth is, few criminal defense lawyers know how to win a DUI trial.
In fact, few criminal defense lawyers know how to fight a DUI. This is because they don't have the knowledge training and experience necessary to mount a successful DUI defense. If you are serious about how to dismiss a DUI charge, then you'll need to hire a top DUI lawyer in Michigan.
How Can I find a Top DUI Defense Attorney Near Me?
The first question before that one is whether you need a top DUI lawyer near me? Yes, you need the best DUI defense lawyer you can find, but the "local guy" might not be the best Michigan OWI lawyer.
Because a good lawyer can get you out of a DUI, you'll want a top OWI defense lawyer, and once you find this person, the next thing is to find out if they take cases in your court. Start with a google search for drunk driving lawyers in Michigan.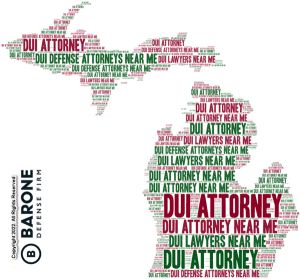 Then start to narrow it down. Find out if they know how to beat a DUI blood test and if they know about any of the dozens of possible breath test defenses. Whatever you do, don't rely on a DUI lawyer with bogus credentials!
Also, be very careful when reading online reviews. You want to be sure the Michigan DUI lawyer you are considering actually got all those 5-star reviews.
Michigan OWI cases are complex topics. Call one of the DUI criminal attorneys at the Barone Defense Firm and receive your free, no obligation case review.