DUI Expungement Michigan: Expunge your First Offense OWI MI
Drunk Driving expungement Michigan. The Michigan DUI Expungement law of a person's first DUI charge became effective in 2022. Most Michigan criminal defense attorneys never though the Great Lakes State would pass such a law for Michigan expungement DUI cases.
MI DUI Expungement. The Michigan Legislature very narrowly limited the law's availability to those who had no subsequent intoxicated driving or drugged driving convictions. If that 1st offense DUI-OWI caused serious injury or death, you are ineligible. Governor Gretchen Whitmer signed the legislation, making it law.
Michigan drunk driving expungement. Because Michigan DUI laws (for the last 25 years) were routinely mentioned as being among the nation's most Draconian, the new Michigan DUI forgiveness law made news nationally. The act is sometimes called the "Michigan clean slate bill DUI."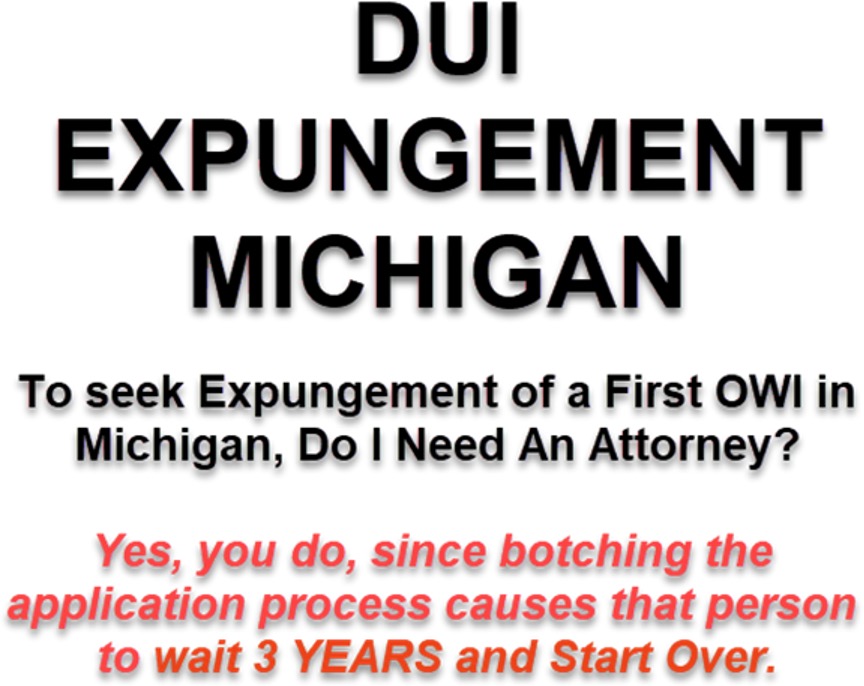 The DUI forgiveness Michigan statute. In a nutshell, the Applicant must have had only a single DUI-OUI-OWI conviction anywhere in America. That one-and-only lifetime conviction case must have been fully completed and closed out for five years or more. In addition, certain types of more serious first offense OWI cases are ineligible.
OWI vs DUI Michigan. For many decades, Michigan OWI Law laws have been widely known to be among the Nation's toughest impaired driving laws. Our state's DUI-OWI penalties include fines, probation (for any days not served in jail), mandatory counseling and driving safety classes, loss of driving privileges and possible additional jail time, on some cases.
All categories of driving while intoxicated will be counted against you. When (on January 3, 2007) the Great Lakes State enacted an OWI Felony law making a 3rd lifetime DUI Michigan offense a felony. Plus, the broadly worded law made no distinction between a conviction for OUIL, UBAL, OWI or OWVI, and counted all convictions, in that offender's lifetime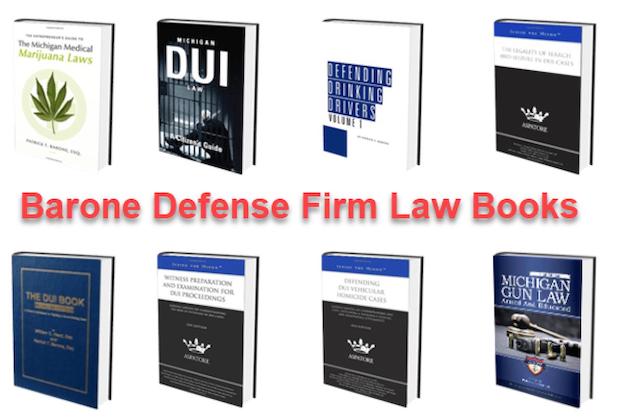 Why hire our Michigan Law Firm? The Michigan attorneys near me at Barone Defense Firm are legal book authors. Our Michigan attorneys travel the entire Great Lakes State, to help citizens remove a first offense DUI from their Michigan record.
When is a DUI a felony in Michigan? So, for the last 25 years, DUI laws in Michigan became known as one of the most aggressive DUI-DWI punishment states in the category of heavily sanctioning repeat offenders. By making any 3rd OWI in Michigan a felony crime, the new felony DUI law caused many to have felony records.
By comparison, most states still had "sunset" laws (a statutory washout period) whereby after a certain number of years of looking back for prior conviction (10 years, 7 years or 5-year being the most common) prior drunk driving convictions "dropped off" that person's criminal record. Even today, in 2022, most states have kept their "lookback" laws.
State laws varied in their wording on such "aging off" laws, with some counting by dates-of-arrest (like Georgia and Alabama) and others counting by date-of-prior-conviction to date of new arrest (like North Carolina). Some states (like Florida) kept their "washout" laws, but enacted statutes that took away (forever) all driving privileges for any 4th offense DUI.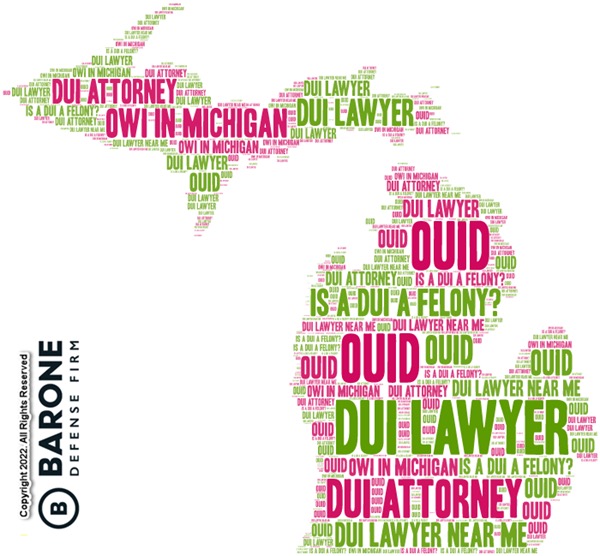 Michigan DUI Expungement 2021, on an OWI First Offense Michigan
OWI Expungement Michigan. Until 2021, the State of Michigan mandated that all OWI-DUI convictions were permanent, and those who had been convicted to those criminal convictions to the grave. But, in 2021, the Michigan Legislature enacted the "Clean Slate Bill," found in Michigan House Bills 4219 & 4220, when Governor Whitmer signed both bills into law on August 23, 2021.
Effective date for Michigan OWI expungement 2021. Applications began being filed in February of 2022. The statute is precisely worded to talk in terms of "who MAY qualify." Broadly, only a first offense DUI Michigan offender is eligible, but a few more "exceptions" need to be reviewed below, since certain types of more serious DWI-DUI criminal charges are ineligible.
Expunge DUI Michigan. The process to clear the prior conviction off your criminal record has detailed application requirements. The required waiting period for having a first OWI (operating while intoxicated) offense expunged from your MI driver license record is five (5) years.
Michigan drunk driving law changes 2021. The applicant's complete compliance with all aspects of the prior DUI case must be verified, such as alcohol or drug educational programs, plus any prison sentence must have been served, community service hours can't have been missed.
Learning How to Get DUI expunged in Michigan. The expungement law requires exact compliance with the Legislative wording; otherwise, the application will be rejected. Then, you wait three years or more to try again. This is why it is best to let veteran OWI attorneys process your Michigan DUI expungement application 2021.
Who Qualifies for Expungement of a First Offense DUI?
Michigan DUI expungement application 2022. Anyone with ONE DUI on their record may qualify for expungement in 2022 or after. Of course, many, detailed application requirements are needed to clear the conviction off your record.
If you have more than one conviction you do not qualify.
After the first offense DUI sentence has been completed, you must wait five years to apply for expungement.
During the five-year probationary period, you must NOT get arrested or convicted of any other crimes.
If someone was injured or killed because of your first time DUI conviction you are NOT eligible for expungement.
If you were convicted of drunk driving while driving a commercial vehicle using a CDL license, you may not apply to have your record expunged.
If you received a drunk driving ticket and (at that time) a minor was a passenger in the vehicle with you, the new law does not apply for such cases. These DUI 1st offenders do not qualify
Why Hiring a Lawyer to Get it Right the First Time is so Important. Michigan Legislators knew that hundreds of thousands would be seeking expunction. Fearing a huge clog in their system from flawed or incomplete applications, they added a "do it right' provision.
If a mistake is made in your application process, then you will be required to wait THREE (3) YEARS to re-apply! Think of the money such a delay might cost during that 3 year wait!
How to apply for DUI expungement in Michigan. For a more detailed account of the Michigan DUI Expungement Process and Court Appearance required, read this page, about the complexities of legal expunction of an OWI Michigan first offense and what to expect.
Call Today! FREE Consultation Lawyer and Receive Immediate Information on OWI Expungement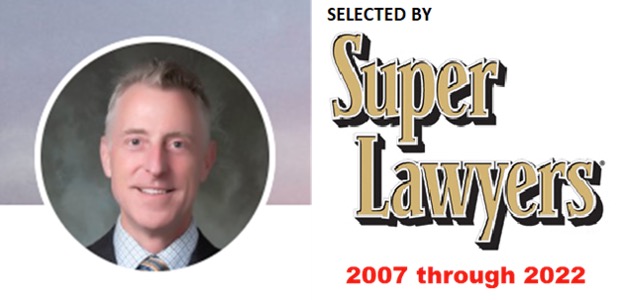 Contact our Michigan expungement lawyers 24 hours a day at our law firm's easy to remember toll-free number, 1-877-ALL-MICH or 877-255-6424, for a free criminal case review. For other minor crimes, Michigan laws allow up to TWO offenses to be expunged, so read this page for more details.
For your FREE lawyer consultation, call today. The information is free. What do you have to lose, when the free legal advice with one of our litigation team's criminal lawyers near me can answer your expunction questions.